Doughworkz @ Pasta Mania 2017
On 2017, we brought our Nursery 1 children out for an excursion to participate in a programme called Doughworkz, organized by PastaMania. Our N1 children learnt to make their own pizza using ingredients such as dough, cheese, ham, mushrooms and tomato sauce. The children were taught technique on how to knead the dough and spread the tomato sauce before putting all the ingredients together. Chefs from PastaMania then sent the pizza into the oven to bake, before the children enjoy their pizza with an apple juice!
Racial Harmony Day 2017
On the 21st July 2017, Greenland Childcare celebrated Racial Harmony day. Booths such as the chinese and malay stations, superb indians and Eurasian heritage were set up with displays of the different cultural games, food and clothings for the children to have the opportunity to learn, play and enjoy all at the same time!
Our children were given the opportunity to try on the baju kurung for the girls, baju melayu for the boys and were introduced to a traditional malay game called congkak in the malay station. As they move to the Eurasian heritage, they immersed themselves with classic english songs as well as playing the instrument, Ukelele. Traditional food such as papadom and roti prata were introduced to the children as they went on to observed the superb indian booth. The children had a wonderful time experiencing and learning about the cultural heritage of the various races. Through the exhibition, children learn to respect individual differences and expand their knowledge in the various cultures.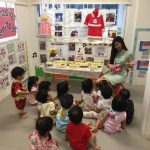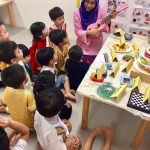 NEWater Factory Plant Tour
In conjunction with our theme on 'My country', the preschoolers went for an excursion to Singapore Newater Factory Plant Tour on 25th August 2017. It was a meaningful experience as we witnessed how water was filtered using advanced membrane technologies and ultraviolet disinfection. We were introduced to the four sources of Singapore's water at the start of the tour followed by some interactive water conservation games and water facts at the water wise arcade!
Lastly, we went through the NEWater Factory plant where children learned about the three stages of how NEWater was processed – reverse osmosis, microfiltration and ultraviolet infection. They also went through a UV scan with UV stamp on their hands each. Finally, we ended the tour with a bottle of NEWater each! At the end of the day, children brought back the 3R tips ith them – Reduce, reuse and recycle!
Mother's Day
Mother's Day is a special one for all mothers around the world. As part of our mother's day celebrations, teachers together with children did a 3D art piece for all their lovely mothers. It was a meaningful experience for all children as they got to design their own art piece for their mums. Here's wishing all the lovely mothers a wondeful Mother's Day ! Continue to spread your love to your little ones 🙂
K2 visit Bendemeer Primary School
The K2 children went on a visit to Bendemeer Primary School to take a look at how a Primary School is like. Children got a chance to experience some of the activities that take place in a primary school and they also got a chance to tour around the environment with their teachers. It was an insightful experience as there were many hands on activities and games for them. Everyone enjoyed their time and this definitely will give them a better understanding of how their future primary school will be like.
Health Promotion Board's (HPB) Mobile Exhibition
The Health Promotion Board's (HPB) Mobile Exhibition arrived at Greenland Childcare on the 25th of February to share with children various ways to keep themselves healthy, including leading an active lifestyle, employing proper handwashing techniques, practising good oral hygiene, eating well (food and nutrition) and taking care of our emotional well-being.
The exhibition comes with various mobile booths that were very quickly set up in the morning and facilitators to introduce the various stations and to guide children through the activities.
This exhibition was conducted for the children from the N1 to K2 class. It was a meaningful hands on learning experience for our children and our teachers! Our children definitely enjoyed themselves during the exhibit ! 🙂
New Year Celebration
Our centre welcome the coming Chinese New Year festival with a celebration on 16 January 2017. Children were dressed in bright traditional costumes to usher in the festival in joyous mood. The celebration started with an introduction of the stories of the 12 animals of the Chinese zodiac and the legend of Chinese New Year. Food and goodies normally found during this festival were also shared during the celebration. There was also a demonstration of the preparation of Yusheng or Prosperity Toss, a type of raw fish salad normally eaten during Chinese New Year. Singing and dancing performances by children from the different levels heightened the joyous mood. The celebration ended with a demonstration of the lantern craft by Evangeline's parents. Children learnt how to make a pretty lantern for themselves. Thank you, Mr. & Mrs. Khuan, for your sharing.
We would like to wish everyone a very Happy, Prosperous and Healthy Chinese New Year. Gong Xi Fa Cai!! 🙂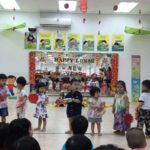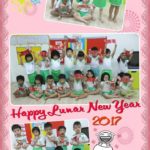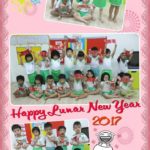 Christmas Gift Exchange
As part of our centre's spirit of recycling, our centre had a Christmas gift exchange and potluck party on the 19 of December 2016. This year, Christmas had a whole new look in our centre as we focused on using recycled materials to wrap gifts and create 3D Christmas art and craft with our teachers and children. Children had a better understanding on the term 'Recycling' and we would like to thank our parents for their contribution of the recycled items.
Adding on, we had a fun and exciting party with our children as they all exchanged gifts with their friends, took part by carolling and danced to the famous Christmas songs. We also organized fun and exciting games for our parents and they were indeed very cooperative and supportive. It was indeed a very Merry occasion for all of us here at Greenland Childcare. On behalf of the centre, we would like to thank all the parents for being cooperative and supportive towards our event. Merry Christmas and Happy holidays everyone!
Birthday Celebration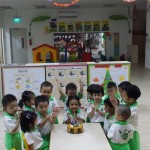 Dumpling Festival
The Dumpling Festival is a colorful festival celebrated by Chinese worldwide It is a yearly event and during this day, the Chinese will commonly feast on dumplings. Our children also had a chance to try out the yummy dumplings and also they had a chance to create their own with the help from our teachers! Our children had lots of fun painting, and creating their very own 'Bazang'. Some our children did not try the dumplings before, and they had a good time trying out the delicious dumplings for the first time ! Look at how excited our children were!
Easter Day Celebration 2014